Many factors depend on making a perfect office layout, including design, modern office furniture, structure and many more. Creating an open office plan not only demands many creative ideas but also an effort.
Organizations are now planning and implementing open space offices on the basis of two reasons. Either they want to adjust more people into one space or they are going to have recruitment of new talent and maintain previous ones.
Employees working in an open space office are not limited to their seats as they have to do a lot more task other than their workstation. For that we need to label different zones and areas for their different type of work. 
Impact of open space furniture on employee's productivity
When renovating or designing an office, it is important to make arrangements which not only enhance employee's morale and productivity but give a unique impact to your organization. 
These modifications are cost effective yet trendy. A simple change makes a great impact on visualization and efficiency. Employees work more independently in open space offices rather than in luxury office Furniture. They have access to every spot and area. It offers employees to work in mobility and tech friendly areas. Nowadays modern office furniture is all that you need to open a modern yet comfortable office. 
To understand it more clearly we can categorize it in 5 different zones. 
Cubicles and private Offices
Open space offices sometimes cause distraction. For this, private offices or cubicles work best. You can have private discussions or can concentrate on your task in these quiet areas. 
Transparent meeting rooms
To have conversation and brainstorming with other team members, transparent meeting rooms work best for this. These areas are specifically designed for collaboration and teamwork.
Free spots for quick discussion or lounge areas helps employees to have a quick break from their routines. Cafeterias and free spots boost their energy level. 
Conference/ training areas
Many organizations don't need proper conference rooms but having space for training and learning spots encourages employees to have training, seminars and learning. 
For Conference & Training area you Need a Executive Meeting Table where you can discuss your future ideas.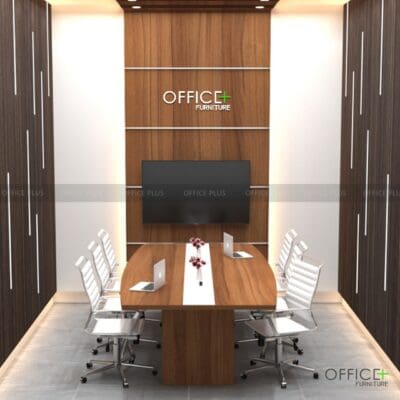 Having a green spot area where employees can spend relaxing time and get some energy is essential for everyone. Having a garden view from their hectic routine will not only boost their energy but will enhance their productivity. 
KEY CONCERNS TO UTILIZE OPEN SPACE 
Arranging a space in the best way takes a lot of time. Utilizing the best out of space not only increases employees retention but also helps them to boost their energy level. 
Converting space into functionality 
To separate a space or make division of two areas doesn't always need barriers or walls. Sometimes using couches can make a great impact. Couches back will naturally separate two areas. If anyone wants to do work more comfortably, they can work on couches. 
Get Custom Made Office Furniture according to your office design.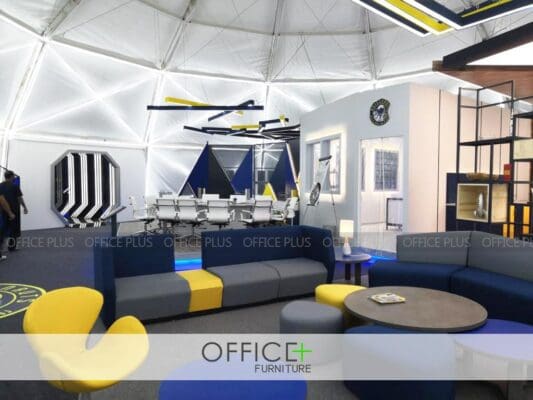 Glass Walls
Having transparent walls in offices helps natural light to spike in every room. But the privacy factor is compromised. As anyone passing by knows what they are doing.
Discussion rooms
Having brainstorming rooms motivates teams on group discussions and enhances their productivity. Many creative ideas came into action. On this basis brainstorming rooms or conference rooms should be in the middle location of the office so that everyone feels free to reach out. On the other hand, having free spots, table tennis areas or lounge areas should be at the end or at the start of the office. As it helps employees to feel energized and boost their energy level. Make them fresh again from their daily routines. 
Future plans
Before finalizing every layout plan and furnishing it we should keep in mind that for how long we will be planning to have renovation again. For this it's best to have everything flexible and mobilized so that it doesn't require any construction or demolition in near future.
OPEN SPACE OFFICE FURNITURE IDEAS
Categorizing space layout and having transparent room's doesn't complete open office space, adding perfectly matching furniture plays an important role. Following are some points to go through. 
Benches and sitting spots  
Having small benches, spots or shelves provide employees a quick spot for discussions either under staircase or on the side of meeting rooms. 
Moveable walls
Ideally moveable and wooden cardboard walls are quick and easy to demolish and reconstruct. Walls can be moved and areas can be put back into any shape and size as per current requirements. 
Ergonomic furniture
Having ergonomic furniture or height adjustable desks helps every employee to personalize their furniture according to their own requirements, giving them a feel of ownership. Ergonomic furniture helps employees to work while being in a comfort zone. Increase their productivity and efficiency.
Multitasking space
Lounge areas or café spots are not only used for free time but for quick discussions. Many standing meetings or private discussions are held in these areas. 
We office plus Furniture UAE offers you vast variety in modern office furniture range. Giving you the best solution for every layout design you are looking for. Delivering Customizable office furniture all around UAE.