Adjustable height desk is new in trend nowadays.  It not only increases competence but also reduces risk of back pains. Adjustable desk gained more popularity in the workplace as it has more advantages than any other workstation. Adjustment in heights not only help everyone to adjust the desk as per their need either they want to work in a standing or sitting position. Height adjustable desk are designed with the complete knowledge of how human body does work? Or how much a human body needs to be in a motion. Letting employees to choose their position either makes them comfortable and productive in their work environment.
Perks of using Height adjustable Desks:
Improves productive capacity
Tiring work routines make every employee stressed out and tense. Sitting on your Office workstation for 6-7 hours ultimately makes your muscles stiff and tensed. Which leads to future severe risk injuries. Prior to that, Height adjustable desks helps everyone to switch from seating to standing position without leaving their workstation. It helps them to boost their productivity and energizes them all day. Improving their body posture not only energizes them but also refreshes their minds and eventually organization productivity is enhanced. 
Prevent obesity 
Sitting all day on your seats not only decreases your productivity and wellness but also causes weight gain in many features. Standing desks are the best solution to that as it continues your body movement in all aspects. It not only helps your muscles to move and put less stress on your shoulders and hips area. Sit stand position supports your body in motion and helps you to burn calories. 
Devotion to Organization and minimizing turnout ratio 
When employees will have less stressed out routines eventually their efficiency will be improved. They will be participating in every healthy activity and will be able to have more creative ideas. Their self-esteem will be increased and in result their absenteeism will be reduced. Employees using standing desks will be more active and healthier as compared to other employees who are seated all day. They will have less exhaustion throughout the day. Motivated employees are more loyal to their employers and represent their organization more positively. They think more out of the box and increase organization efficiency. 
Healthy Organization
Research Says: After using Height adjustable desks in Dubai many employees feel great change after getting used to it. It not only helps them to increase body physical movement but also helps to maintain blood flow and reduces obesity. Which eventually results in fewer absentee and more employee's retention.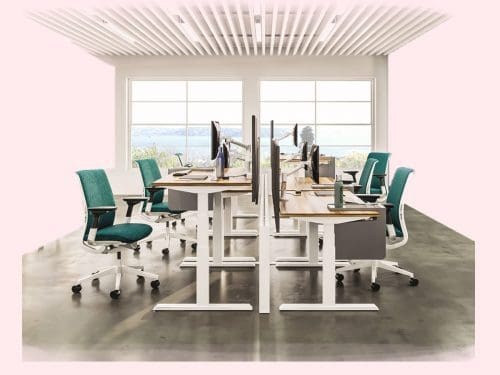 Optimistic Brand Recognition
As previously discussed, healthy and energized employees represent themselves and their organization in a positive aspect. They are not only satisfied by themselves but with their organization workflow. They provide positive word of mouth in the market as well as enhance your company output and credibility. 
Spending money on investments such as height adjustable desks or Ergonomic furniture represent a positive and trustworthy image of your organization in the market. It determines that your organization's priority is their employees and your organization is very considerate about providing right tools to their employees so that they can stay productive all day along. 
Protects Future injuries
Height Adjustable desks improve your body motion and blood circulation. Promotes knees, ankles and spine movement. Which ultimately lessen the pressure on your backbone. Sit standing position reduces future injuries and lower back pains which is very common issue of seating on seats for long time. Sitting for a long time on your seats causes pressure on your knees, ankles and hip bones, which height adjustable desk reduces.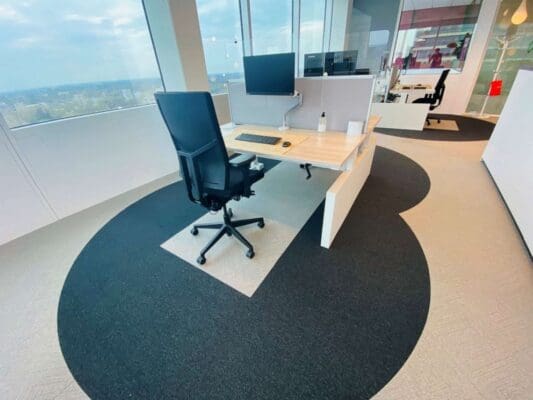 Encourages mental activities 
Mostly working in your daily routines quick meetings or discussions are made. According to researchers when a person is in standing position his brain works vastly and efficiently as compared to person who is in a sitting position. Standing position helps them to concentrate and make a quality decision. 
Increase in Determination
As Adjustable desk reduces neck pains and future backbone injuries which in result make employees more comfortable and motivated. When any employee feels healthy and relaxed in workplace ultimately, he will give his best in every situation. Appreciate their workspace and give more unique ideas related to every situation. Healthy employees eventually reduce absenteeism and turnout ratio. 
WHY WE SHOULD ALL USE A HEIGHT ADJUSTABLE DESK? 
Office plus.ae provides you massive choice of adjustable desk which can be transformed into every height and angle as per your ease. Some Cheap office furniture's provides you inexpensive and inflexible desk which leads you to neck and back pain complaints. We provide you multiple range with aesthetic and durable material providing you flexibility and adjustments as per your choice. Providing best quality Height adjustable desk and Ergonomic furniture not only guarantees employees safety and health but also is an asset of your organization which will last long. Office plus.ae deliver it's unique and versatile products across Dubai.