Why is the reception area more important than we think?
Reception spaces are the face of our organizations. It gives the first impression, if badly managed, then this can be remembered as a negative impact. 
There are different aspects of reception rooms; some follow as visitors with short meeting intervals where a couple of chairs are enough. While others prefer to have comfortable sofas including refreshment corners where clients tend to wait for more for their appointments to meet.  
Always make sure that front desk areas reflect your company image and norms. These areas say a lot about your business. These places not only make a long-lasting impression on visitors but happy customers recommend it to others as well.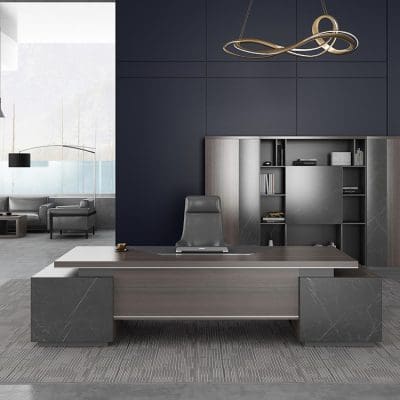 Following are some practical ways to improve your reception areas. 
Advantages of tremendous office reception Desk:
Always keep in mind that office reception is your storefront. Which displays the whole of your business. Office reception Desk has high chances to make a first impression on visitors, business partners, and customers. 
Friendly, trendy, and well-designed reception counters eternally welcome everyone. 
Make sure that it creates a positive office vibe.

It helps to increase customer service, efficacy, and sales. 

It improves employee's morale and attitude towards work. 
Efficient ways to create a reception center:
Every business strategies and working structures are different but some guidelines work for every type of business.
Ideally, it is best to have a separate room for the reception center.  It helps to minimize distraction and noise caused by visitors and employee's hustle and bustle. Separate rooms for reception areas maintain the image and organizational perception. A distanced room gives more privacy and helps employees to focus on their tasks. 
Every reception room needs a proper workstation where attendants tend to schedule meetings. Reception centers are the focal rooms of offices, where desks and seating arrangements are important as well. For that, it is always ideal to have a high-quality and aesthetic reception desk. 
Our office plus offers customizable and classic reception tables. We not only manufacture creative reception tables but we offer complete storage space with them. Offering a variety of hard and softwood materials in every office furniture Dubai range. You can have customized designs, shapes, and even color combinations. 
 Offer a more pleasant environment
The reception area not only includes a classic desk but a proper seating arrangement. Appropriate seating can make clients and customers welcome while you are available for them. Seating should be comfortable yet trendy and modernized. Choosing the right seating capacity will enhance your space and will correlate with your organization's branding. 
Office plus design completely modern visitors chairs. They are unique in design and shape yet comfortable as well. Our exclusive range of office furniture in Dubai can be checked through our online store. Our versatile range of visitors' chairs are contemporary and chic. We make sure that visitors and customers must feel relaxed while waiting for their appointments. Our every range of office furniture matches your desired style,cost-friendly and corporate identity. 
Adding singular coffee tables with some trending magazines or your company portfolio keeps visitors busy. Placing your newsletters and publications will help you to promote your brand.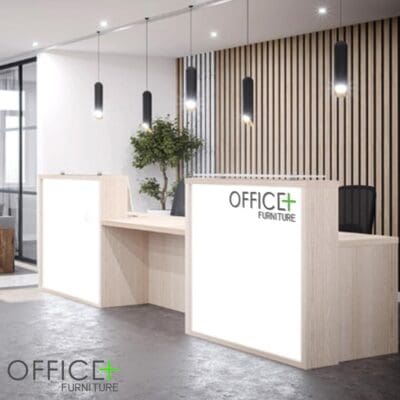 Right organizational perception
Reception areas not only give meaning to the waiting room but it is also ideal for promoting your organization values and achievements. You can hang your certificates and adding display cabinets will offer you a space where you can showcase your awards, trophies, and pictures. 
Motivating your employees and giving an impression on your clients and visitors. It will enhance your company's reputation and brand image.
If you are looking for display cabinets then you can go through our online store. Where you can find every size, design, and style variation. Or you can have access to the complete office furniture Abu Dhabi range with one click. 
It is ideal to have the best of best for your reception centers, but your staff attending to your clients and visitors matters too. Choosing someone who is friendly and has efficient skills. So that they can entertain potential customers as they arrive. 
Make sure your reception areas are attractive and yet comfortable for clients and potential customers. Choosing the best suitable desk, chairs, and interior for your organization is always a key point. 
Office plus manufactures every furniture item with high-quality imported German EGGER  material. Our talented team of skilled designers and craftsmen design every item with great care and delicacy. Delivering our promised values and beliefs towards our delicate customers. Our complete range of office furniture in Abu Dhabi fits according to your office layouts. We not only offer customized design and style but give complete consultations to our customers about designing and style that goes perfectly with your taste. You can visit our online store and check thousands of office furniture items at one stop.