HOW TO CREATE AN EXPERIENCE-CENTRIC WORKSTATION IN YOUR OFFICE
In an ideal world, an office would be filled with happy people working in a cheery environment. While this may not be the most realistic goal, you can certainly strive for similar levels of employee satisfaction. If you notice sad faces and a sense of tension and aggravation in your workplace, it's time to reconsider your workstation layout, among other things.
The most difficult task for a modern office is to establish a relaxing, distraction-free, yet stimulating work environment that relieves employees of work-related stress. You want to encourage team members to communicate and collaborate while also limiting pointless chats. Begin by identifying the complaints and inconveniences that your employees are experiencing as a result of an inefficient workstation.
A workstation may appear to be an average piece of furniture, but its significance in the workplace goes well beyond that. A workstation is an important element of an employee's day and contributes to the overall atmosphere of the company.
We've outlined some areas where you might concentrate your efforts to create an environment that fosters growth and well-being.
Spacious Workstations
If you wish to create a stress-free environment, limited space can be challenging. To handle as many staff as possible in a limited space, you can use modular office workstations. Though it may not give off a modern-day air to the office, it will undoubtedly solve the issue.
Technical accessories are supported.
Workstations have progressed beyond simply separating your personnel in cubicles. Today, you may discover booths intended to accept widescreen displays and wireless keyboards fully. Look for flush designs with the wall and leave enough room for the skirting boards. An innovative design will help manage cables while maintaining the professional appearance of your office.
Furniture that adjusts
Changing work habits has also aided in developing innovative office workstation designs. The modern workforce has developed a propensity for flexible working hours and an active lifestyle. Offices might use adjustable furniture to support their desks to help with this transition. A height-adjustable corner booth, for example, is suitable for workgroups.
Tips To Create An Ideal Workstation
Create a workstation that meets your requirements.
Employees and usefulness should be at the forefront of every office design. Keeping commonly used goods closer to your reach is great to set up your booth. This can assist you in avoiding overstretching and poor posture. You may also stack complementary office equipment like A4 papers and printers together for increased efficiency. Arranging your table according to your daily work schedule also contributes to the overall office atmosphere.
Office plus creates, customizes, and delivers office furniture to clients at affordable pricing.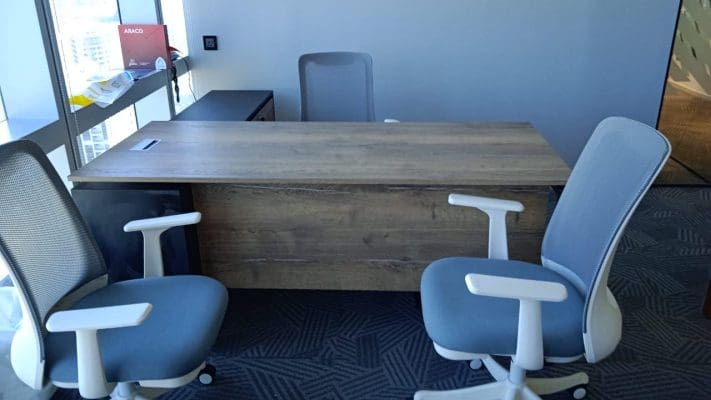 Identify Your Workstation's Problems
An anonymous questionnaire is a simple method to detect challenges experienced by your team. Please familiarize yourself with the discomfort your employees are experiencing due to their work environment. The material can then be filtered to find genuine pointers. Once you have the necessary information, you can begin browsing for furniture providers who specialize in multi-functional ergonomic designs.
Rearrange and replace outdated office furniture.
Always strive to eliminate inefficiency by reorganizing disorganized workplace furniture and equipment. You can plan out the details of your workspace and rearrange the table to find the best layout for your needs. Start by getting rid of any unnecessary furniture and replacing it with something more practical and functional. Your furnishing partner can assist you in determining the best furniture fit and layout for your business.
Purchase soundproof partitions and discreet panels.
Soundproof dividers provide solitude and reduce noise while adequately dividing the office space for everyone. When space is constrained, you can split a single location into many workstations for your coworkers. You can also purchase modesty panels to guarantee that your employees are at ease at their workstations.
Organize your storage and cabling.
Modern workstations are designed with specialized storage areas to increase storage capacity. Workstations with inbuilt ducting can also be purchased to solve cabling and connection concerns. Smooth workflow is ensured by providing sufficient power outlets in each cubicle.
The biophilic design promotes general well-being.
Modern offices are conscious of their environmental footprint and the behaviors that influence the environment. You may take a modest but significant step in the right direction by incorporating biophilic design into your workstations. It has been demonstrated to increase creativity by 15% and productivity by 5%.
Office plus manufactures, customize, and delivers office furniture dubai at competitive prices based on client specifications. Customers can rely on us for any office furnishing needs with their eyes closed, thanks to our high-quality materials, excellent build quality, and shorter lead time!
You've come to the right place if you're looking for a partner to help you create your ideal workstation. We can guarantee durable office furniture every time because we have over three decades of experience in the market!