Luxury office Furniture Dubai:
Every piece of furniture in your organization had a great impact on its productivity and creativity. Providing a creative and innovative workspace to your employees, motivating and making them happier employees. Right office furniture had a great impact on your organization brand and employees efficiency. Everyone is looking for the most trendy and unique ways to increase their organization and employee's efficiency for that, up to date Luxury office furniture is the way you can make it possible. Now many organizations are doing makeovers to their dull and former office furniture's. Which affects not only their organization's efficiency but also increases employees' turnover rate. 
Following are the reasons and some resourceful ways you can utilize in your office to enhance capability of your workplace.
Weary Furniture Makes Dull Workspace
If your organization is occupied with dull and faded office furniture and it is strongly affecting your employee's productivity. Not only does boring furniture make you lazy but also leaves an uninteresting look on your organization. Lazy employees will eventually have lost interest in their work and will slow down their efficiency which in long term will affect your organization production. In result demotivated employees will have more turnover rate.
Color Scheme Effects
Bright colors not only lift up your mood but also help you to stay energized and active. Many organizations are now choosing vibrant and exciting colors to help their employees stay energized all day. This also helps their organization to have enthusiastic outlook and to boost their productivity.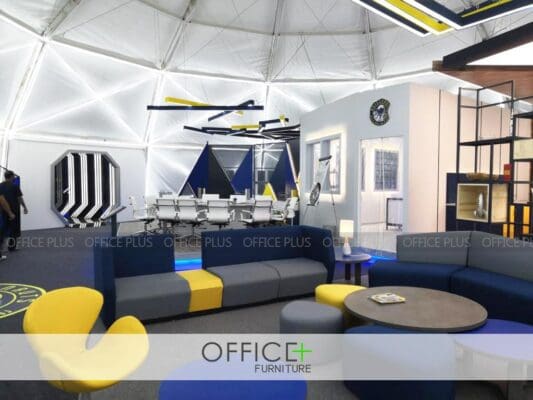 Comfort and ease of employees
Comfortable office furniture is the main factor affecting employee's health and efficiency. Comfortable office furniture not only reduces future health injuries but also makes employees happy about their work routines. Now many organizations are making huge investments on Ergonomic office furniture including height adjustable desk and sit-standing workstation. Providing a best workspace to you employees will eventually make them happy and loyal employees. 
Approachable Storage Space
A better approach to reduce stress and incompetence is to provide storage space on every desk which will eventually reduce clutter on desks. Keep more used office accessories or printers near to employees so that they do not feel a burden to continue their work. Disorganized workspace will reduce your productivity and will make you stressed out. Using vertical space drawers will help you organize your stuff.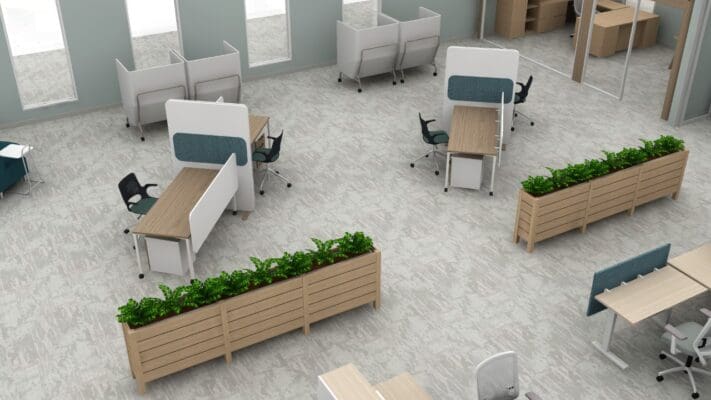 Entitling office spaces
Unique way to increase productivity is making "zones" throughout your organization. Many organizations had distinguished different spaces and rooms like free spots, cubicle glass rooms, transparent meeting rooms and many more. Providing a variety of meeting and free spots makes them more productive and efficient. 
Ergonomic furniture and Height Adjustable Desk
To increase your employee's efficiency is by providing them with the best assets. For example, having ergonomic chairs and tables not only helps them to stay active and energized all day but also plays an important role in their health assurance. Trending workstations used by many organizations are Height adjustable desk and workstation. Which not only minimizes back injuries but also helps employees to work efficiently either by sitting or in standing position. Office plus.ae provide a top quality and authentic Ergonomic office furniture and height adjustable desks in Dubai.
 Daylight effects on efficiency
Natural light had a great impact on one's work rate. Organizations having windows not only help employees to have an outer view but expose them to natural light. Natural lights not only increase employee's efficiency but also lift their mood and make them energized all day. Whereas organizations with no windows tend to be darker and their employees tend to feel more stressed and uninterested in their tasks. They will be sleepier in day times and will have bad outcomes including sleep disturbance and daytime dysfunction. 
Open space desk improves communication 
Providing best quality furniture with a space of open desk or brainstorming meeting rooms not only encourages employees to share their creative ideas but also enhance their efficiency. Open desks give opportunity to work in teams and encourage them to feel comfortable on open discussions. Open space tables also provide a good space for office essentials to be used during meetings.
Activity based rooms
Now another trending office structure includes rooms and spaces where everyone can complete tasks. If you are having a group discussion of 4-5 persons then Cubicle meeting rooms or Transparent rooms are the best options to choose. These rooms not only help teams to do meetings but also provide an employee to complete his task with distraction free workplace. Free open space with couches and lounge chairs benefits employees to have their free time with comfortability.
If you are looking for modern office furniture or luxury office furniture then we office plus.ae provides you elite and excellence furniture with  fastest doorstep delivery in all around UAE.