Things To Consider Before Buying Office Desk:
Purchasing an office desk can be a difficult task to do. It not only impacts your health but it affects your productivity. Before purchase, it is best to do some research. Following are some tips to consider while purchasing the best quality Office desk.
Layout or design For Office Desk:
One of the basic things to consider while selecting a table is design and structure. Speaking of truth, design and style all depend on your taste and preference. Many people are more conscious of looks and design than capacity.
 As they know that this finished product can ultimately dull or brighten our office rooms. Before finalizing it, make sure that you choose the right color and design which matches perfectly with your office rooms. It's up to you whether you want a luxurious desk that is enriched with wooden layers and texture or you want a minimal yet modern desk outlook. Office plus launches its exclusive Italian office furniture UAE category where you can get our most delicacy yet elegant furniture items. 
Office Desk Storage Capacity:
When looking for an office desk, you need to look for storage options. If you purchase a modern desk then you will have minimal storage capacity. To overcome that, you need to have extra cabinets or filing cabinets to store your documents. Or will you add storage shelves for saving accessories and other office supplies?
If you are looking for modern office furniture UAE then you can go through our website. Where we offer an exclusive variety of luxury office furniture and modern office furniture. Offering an office desk with complete storage options. Or you can have extra filing cabinets which are available in every color and design. 
Shape and size of office Desk:
Measuring the space and size of your designated room is important. Before purchasing make sure you measure your room size and shape. It helps to determine which type of office desk you need either L-shaped or wrap around the desk. If you have a corner spot in your office room, an L-shaped office desk will be best to have. You can finalize your measurements with inches of tape and choose the table that fits your room best. 
Stability and quality:
Before finalizing it, make sure you look carefully at the quality and material used in it. Many manufacturers offer cheap yet low-quality work appliances. Some manufacturers use pressed wood that doesn't last long. On the other hand hardwood and softwood is considered more reliable and have high persistence. 
We Office plus offer high-quality hardwood desk, including many aesthetic materials like oak, brook, tango and many more. Our vast range of luxury office furniture in UAE is now available exclusively.
The design choice of office Desk:
Every person's design choice is different. Some of us prefer modern office furniture and some prefer italian office furniture. Design is a basic requirement of every item as these products are final productions that only need to be placed. You need to be certain about the design, color scheme, and type of texture of your office room. That matches perfectly with the ambiance of your workspace. 
Following are some top-rated and exclusive varieties of desks.
This zonto executive Desk is a chic and exclusive collection of Italian office furniture. Its L shape design is convenient for corner spots in your room. Keeping in mind the taste and preference this unique desk is designed for higher management. It is not only sleek in design but has a wide storage capacity. It offers you proper space for accessories and desktops. Top-quality solid wood is used in its crafting. A combination of two kinds of wood is used which enhances its looks and texture. 
Types of Office Desks:
Spike Executive Table
This is another elegant style of Office Desk which is a variety of luxury office furniture. It is designed for the upper management level. It offers an image of standard and premium quality. Suitable for corner or middle spot. 
Offering wide storage options and bookshelves. Its unique design provides complete space for desktop and printer installation. Spike's executive table is crafted with care and observation. The solid wood of two colors is used in its manufacturing as its combinations enhance its design. A solid wood texture used in its manufacturing gives a trendy look.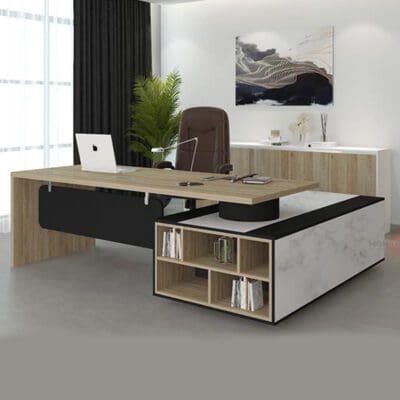 Lily Executive Table:
This an L-shaped office desk. This is one of the modest tables from our modern office furniture collection. Complete in design yet storage capacity. It is lower diamond-shaped frame is unique in structure. This sleek design table fulfills the trendiness of the modern era. Its spacious desk and attached lower-height filing cabinets offer you complete space to store your documents.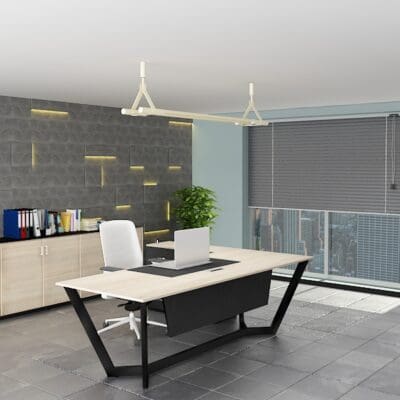 Asia Executive table:
This one of the top-selling items. This table consists of two portions front and back. The front desk is sleek in design as it offers you space for the desktop. Its backward desk can be utilized for storing files and accessories. This table can be placed on the right side or left side of the main deck. It is crafted with uniqueness and a classy style. 
If you are looking for office furniture in Sharjah then office plus offers you a complete range of desks and chairs as per your desire.