According to human psychology, we tend to remember our first impressions. Either you are having a first impression of a company or of a person. When anyone enters your office, the reception area is the first place where they encounter your business representatives. Clients and investors interacting with your organization need to be pleased and happy with their first experience at the office. 
Always select office furniture that is classy, practical, and contemporary in style. These types of furniture are not only comfortable but leave an impression on users.
Following are some factors to look up while purchasing a reception desk.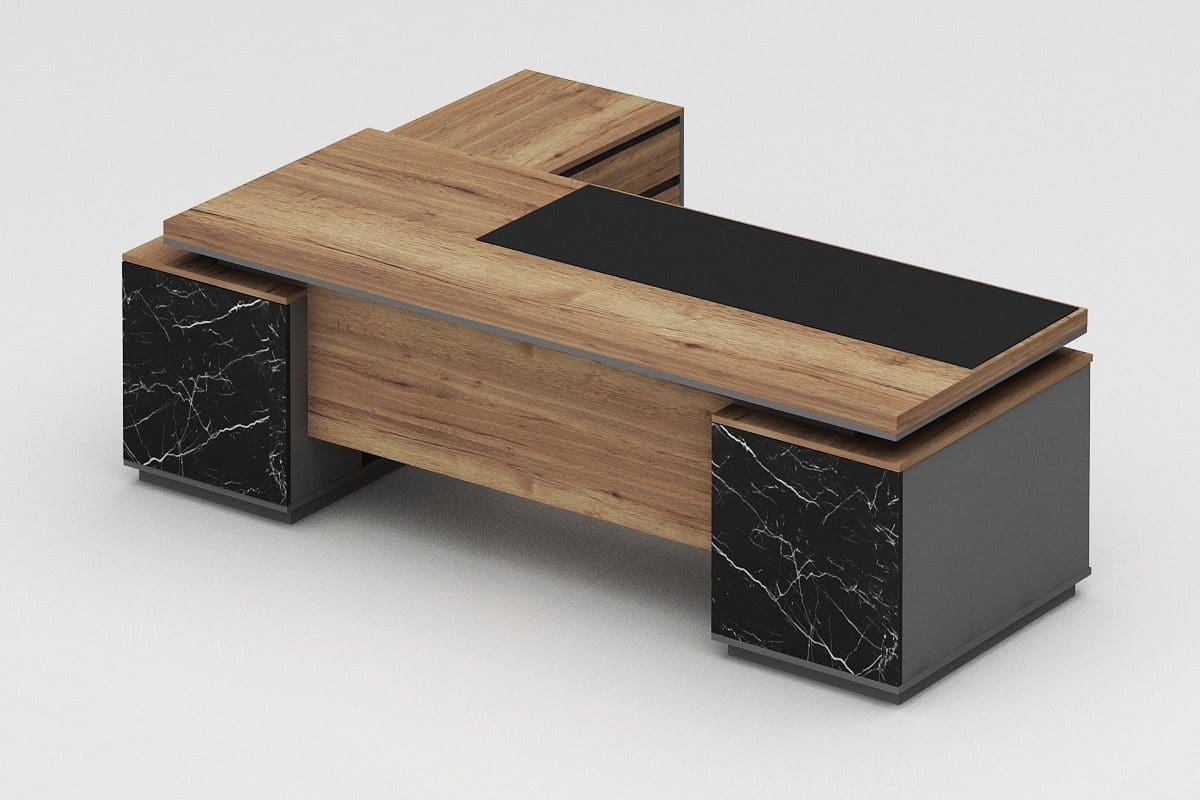 Size
Before purchasing your reception table make sure to take proper measurements of the space you have in the waiting area. Select the size and position of the desk you want to place. How many people will be using that reception area? The reception desk should be facing the front side door so that as soon as visitors enter your office they can see the table. 
Remember to buy a reception desk that fits your waiting area. It should not be too big for a room or too small that not even one person can accommodate. Make a space to fit other furniture in the waiting area as well. 
Functionality
Every business aspect and dealing with clients and visitors are different. The same goes for the reception desk. Make sure to think about what those pieces of furniture will be used for.
For example:
Other than dealing with clients and visitors, what other tasks does the receptionist be doing? If they are working on different filings and records entry then they need extra space on the desk to handle this work.
A number of visitors visiting the information desk at one time?

How long does every visitor need to wait?
Above mentioned hints will make it easy for you to choose furniture that suits your business. If you are a small company having infrequent visitors then a table chair would be enough for you. Or if you have more frequent visitors visiting your office than having proper seating arrangement with sofas, an extra pair of chairs and coffee tables would be essential. Having a creative and unique desk will benefit your business and client response. 
Style
To keep your company's brand image try to invest in aesthetic and classic furniture. If your company offers services or products to older clients then having classic and traditional styling furniture would be suitable. But if your organization is working on creative and innovative fields then having unique and contemporary pieces would be the best. Try adding artworks, your company's success stories, or endorsements. Adding different decorations and masterpieces will make your waiting room trendy yet glamorous. 
Quality
Not always costly furniture is quality furniture. Purchasing reception furniture from any store without any guaranteed check is not ideal. Waiting area furniture is a long-term investment. As it will be used by not only your employees but by your clients, visitors, investors, and applicants. This furniture will accommodate every size and shape of a person. So it needs to be strong and durable. It should be made with high-quality wood, stuffed with the best cushioning, and must be trendy in design. 
Our office plus offers a variety of desks that match your organization's branding. It is aesthetic in quality yet classy in design. Our complete collection of reception tables is designed by skilled and master designers. You can check our complete range of office furniture Dubai on our online store.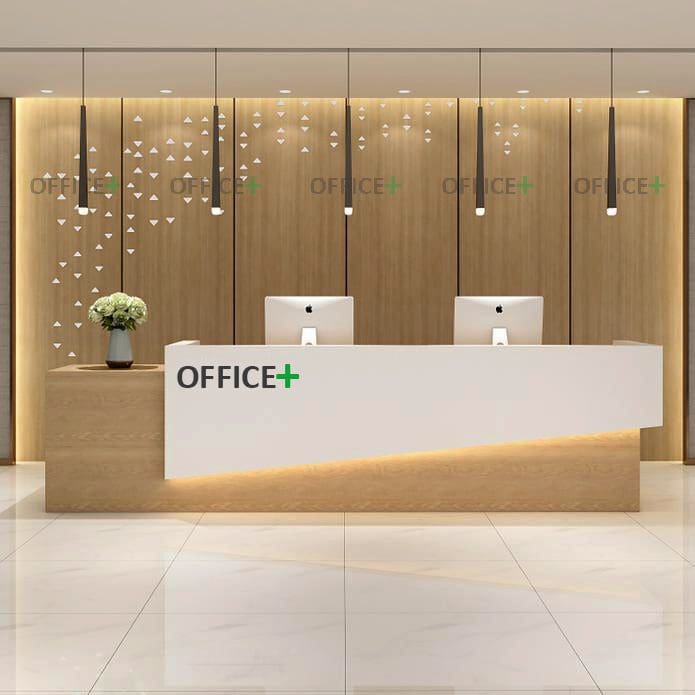 Choosing the best design
Following are some design tips that will help you to choose the best from scratch. 
1. Moderate
This design category, it emphasizes neat and sleek designs. In which mostly steel and glass are used and this design is referred towards more contemporary styling. If you are looking for glass tables then we office plus offer a collection of glass made front desk. Which are unique in design and inventive in style. We deliver express delivery of office furniture Dubai within a day. 
2. Diverse range
In this design range as the word describes it evolves creativity and combination of different pieces and elements. A front desk with a combination of multi-material having the same shape and curved is fun to have. If your organization or company works on creativity and modern technology then these types of front desks will be best suitable for you. 
3. Elegancy 
Organizations with a history of establishment and achievements tend to go with it. Reception tables with installed light fixtures highlighting wooden and leatherwork make it more glamorous. This type of front desk is great for attention-drawing as it gives an impression of the high class and status of the company. 
4. Dynamic
Dynamic design mostly highlights the usage of bright colors and simple lines. Try to choose neutral colors giving a perfect look. Office plus design every furniture item as per our dedicated customers choice. We deliver office furniture Abu Dhabi with swift delivery services.